Our Pristine Mind: Journeying Into Our Natural State of Mind Through Meditation
With Orgyen Chowang Rinpoche
February 4, 2018
Join renowned meditation master Orgyen Chowang Rinpocheat at the Blockhouse Bay Boat Club in Auckland, New Zealand for this special daylong meditation retreat designed to take us through a progression of practical meditation instructions and experientially introduce the way these methods fit together to reconnect us with the unconditional happiness that lies within us.
Pristine Mind meditation is a powerful form of meditation that comes from the Dzogchen tradition. During this daylong program, Orgyen Chowang Rinpoche will provide direct guidance on how mindfulness and Pristine Mind meditation work in union to help us calm our agitated minds, uncover our naturally pristine state of mind, and learn to maintain an experience of unconditional happiness in every moment.
Using simple language based on teachings from his book, Our Pristine Mind: A Practical Guide to Unconditional Happiness, Rinpoche will present precise, experiential instructions drawn from the Dzogchen mind-class teachings that make this life-transforming journey from mindfulness to Pristine Mind accessible to all.
You will learn a full tool kit of techniques from ancient masters of Tibet and India for working with your mind to reduce anxiety and stress, enhance your happiness, effectiveness, and relationships, and reconnect with your natural state of mind. These methods are deeply relevant whether you are just seeking a happier life or are pursuing the spiritual journey all the way to enlightenment.
Beginners welcome. No background with meditation is necessary.
Schedule
10am – 4pm (with a lunch break)
Bring food to share for lunch.
About Orgyen Chowang Rinpoche:
Orgyen Chowang Rinpoche is a meditation master in the Dzogchen lineage of the Buddhist tradition with a particular passion for presenting these teachings in a practical and experiential way for a modern audience. He studied for nine years with his teacher, Jigme Phuntsok Rinpoche, one of the greatest Dzogchen masters of the twentieth century. After completing his studies and receiving the khenpo degree, the highest degree of Buddhist study and practice, he spent several years teaching lamas, monks, and Western students at Ka-Nying Shedrub Ling, a large monastery in Nepal. During that time, he received additional advanced instructions from the renowned teachers Tulku Urgyen Rinpoche and Thinley Norbu Rinpoche.
Since 1995, Rinpoche has lived in the United States. He resides in the San Francisco Bay Area, where he is the founder and spiritual director of Pristine Mind Foundation. He conducts retreats and offers teachings throughout the United States and around the world, for a broad range of audiences, including business and technology professionals, parents, children, health-care providers, psychologists, spiritual seekers, and yoga practitioners. His teachings are also available online through live streams and recordings.
Orgyen Chowang Rinpoche is the author of Our Pristine Mind: A Practical Guide to Unconditional Happiness (Shambhala, 2016).
Teacher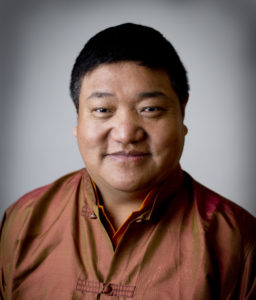 Orgyen Chowang Rinpoche
Orgyen Chowang Rinpoche is a meditation master and teacher residing in the San Francisco bay area of California. Rinpoche began his studies in Tibet with the great Jigmed Phuntsok Rinpoche, widely acknowledged as one of the greatest Dzogchen masters of the twentieth century. More…
Learn more about Orgyen Chowang Rinpoche