Shower of Blessings Daylong Meditation Retreat
With Orgyen Chowang Rinpoche
April 1, 2023
Shower of Blessings Daylong Meditation Retreat
Please register for only one of the formats: Online or In-Person.
For In-Person Attendance: Registration closes at 6:00pm Pacific Time on Friday, March 31st, 2023. If the available seats fill up early, there will be an option to add your name to a waiting list.
Update: The limited seats for In-Person participation are currently full so we encourage you to register to attend the retreat Online.
---
Orgyen Chowang Rinpoche will be leading a Shower of Blessings Daylong Meditation Retreat which will include teachings on the practice as well as guided meditation.
In this rich and transformative form of meditation, instead of focusing on an ordinary object of our attention such as the breath, we focus on extraordinary objects by visualizing enlightened art, reciting enlightened poetry and mantras, and cultivating extraordinary attitudes. This meditation, based on the Seven-Line Prayer of Guru Rinpoche Padmasambhava, combines focusing on these enlightened objects of attention with the practice of resting in Pristine Mind.
---
Schedule:
10:00am – 12:00pm Pacific Time: Morning Session
12:00pm – 1:30pm Pacific Time: Lunch
1:30pm – 4:00pm Pacific Time: Afternoon Session
Pricing:
Online
$50 – Program Price
$51 – $250 – Program Price + Donation
$10 – $49 – Scholarship Rate
In-Person
$75 – Program Price
$76 – $500 – Program Price + Donation
$25 – $74 – Scholarship Rate (Limited seats available for in-person scholarship rate. Please contact us if you no longer see this option available upon checkout.)
No one will be turned away for lack of funds as space allows. Please contact us if you need to make special arrangements.
---
Important Notes:
Prerequisites:
There are no prerequisites and anyone with background with or interest in meditation practices that include visualization and mantra recitation is welcome to attend.
Live Stream and Recording:
The Retreat will be live-streamed on Zoom for participants attending Online. Please note that since you will receive the live stream link immediately upon registration, we are not able to offer refunds for this program.
Audio and video recordings will be available for all participants (In-Person and Online) approximately one week after the retreat. The recordings will be available for 3 months.
In-Person Attendees:
This is a commuter retreat. If you're coming from out of town and need local accommodations, here are several hotels within a 20 minute driving distance of the retreat:
Please bring your lunch each day as there will not be time to leave during the lunch break. There will be plenty of refrigerator space and a microwave available for your use. We also recommend bringing a bottle or thermos of water if you wish.

Masks will be welcomed and optional and we will be limiting the number of in-person participants. We ask that anyone who is not feeling well or has any recent symptoms of illness or allergies prior to the retreat – or who has been in close contact with anyone who does – not attend in-person. If you are no longer able to attend in-person, please let us know by emailing us at [email protected] and we will be happy to assist you in getting set up to attend remotely via the live stream. Please let us know as far in advance as possible so that we may offer your seat to someone else.
Additional Notes:
The Shower of Blessings teachings will be based on Shower of Blessings: A Practice of Oneness with the Enlightened Master Based on the Seven-Line Prayer by Mipham Jampal Gyepa. Rinpoche has translated this practice and a link to the PDF will be provided to all participants prior to the retreat. Physical copies of the booklet may be purchased here.
If you have a different time zone, you may convert the

time

 to your 

local

 

time

 here.
Teacher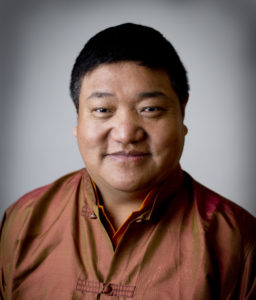 Orgyen Chowang Rinpoche
Orgyen Chowang Rinpoche is a meditation master and teacher residing in the San Francisco bay area of California. Rinpoche began his studies in Tibet with the great Jigmed Phuntsok Rinpoche, widely acknowledged as one of the greatest Dzogchen masters of the twentieth century. More…
Learn more about Orgyen Chowang Rinpoche