Cancun Mexico Pristine Mind Meditation Retreat & Teachings
With Orgyen Chowang Rinpoche
March 23 - 25, 2018
Pristine Mind Meditation Retreat: Awakening the Enlightenment Within You
Tema e información del Retiro de Cancún
23 al 25 de marzo de 2018Título:Meditación de la mente prístina: Despertar la iluminación dentro de ti
Con Orgyen Chowang RinpocheDescripción:Acompáñanos con el reconocido maestro de meditación Orgyen Chowang Rinpoche para este programa especial que explora la naturaleza prístina de la mente. Rinpoche guiará a los participantes en cómo distinguir entre la mente ordinaria, con sus pensamientos, sentimientos y eventos mentales, y la mente prístina, un profundo refugio interior al que podemos acceder en cualquier momento. Usando un lenguaje simple basado en las enseñanzas de su libro, Nuestra mente prístina: Una guía práctica para la felicidad incondicional, Rinpoch
e proporcionará instrucciones precisas y experimentales extraídas de las enseñanzas de la clase mental de Dzogchen que hacen posible esta realización transformadora en la vida de todos. Estas enseñanzas son profundamente relevantes ya sea que solo busquemos una vida más feliz o sigamos el camino espiritual hasta la iluminación.
Sobre el Maestro:Orgyen Chowang Rinpoche es un maestro de meditación en el linaje Nyingma de la tradición budista. Estudió durante nueve años en Larung Gar en Serta, este de Tíbet, con su maestro, Jigme Phuntsok Rinpoche, quien es ampliamente reconocido como uno de los más grandes maestros de meditación Dzogchen del siglo XX. Orgyen Chowang Rinpoche, antiguo residente del Área de la Bahía de San Francisco, es el fundador y director espiritual de Pristine Mind Foundation y autor de Our Pristine Mind: A Practical Guide to Inconditional Happiness. Para obtener más información, visite 
www.pristinemind.org.
Programa:
Viernes, 23 de marzo
7:00 p.m. – 8:30 p.m.
Sábado, 24 de marzo
10:00 a.m. – 12:00 p.m
2:00 p.m. – 4:00 p.m.
Domingo, 25 de marzo
9:30 a.m. – 12:00 p.m.
Costo:
2,500 pesos
2,000 pesos antes del 03 de marzo
Nadie será rechazado por falta de fondos. Por favor, póngase en contacto con info@pristinemind.org si necesita hacer arreglos especiales.
El espacio es limitado. Regístrese lo antes posible.
Para el almuerzo del sábado, se le invita a traer su propio almuerzo y contamos con la ventaja de estar ubicados a 2 minutos de varios restaurantes.
Si está visitando desde fuera del área, lo alentamos a hacer los arreglos de alojamiento temprano, ya que los Airbnb y Hoteles locales se llenarán rápidamente.
Métodos de pago:
Se puede realizar el pago por depósito y también se aceptan tarjetas débito o crédito en nuestras instalaciones (Wellness Boutique Cancún).
Depósito OXXO:
Bancomer
No. Tarjeta 4152 3130 4012 9236
Favor de enviar el comprobante de pago a Wellnessboutiquecancun@gmail.com junto con su nombre completo y número de celular.
Mas información y dudas con Gabriel Rangel Hassey
9981575849
o
Sandra Luz
9981 95 8966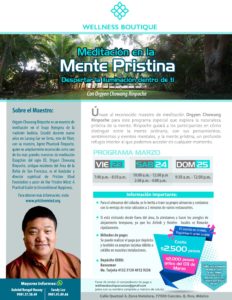 Join renowned meditation master Orgyen Chowang Rinpoche for this special weekend retreat exploring the pristine nature of the mind. Rinpoche will guide participants in how to distinguish between ordinary mind, with its thoughts, feelings and mental events, and Pristine Mind, a deep inner refuge that we can access at any time.
Using simple language based on teachings from his book, Our Pristine Mind: A Practical Guide to Unconditional Happiness, Rinpoche will provide precise, experiential instructions drawn from the Dzogchen mind-class teachings that make this life-transforming realization attainable for all. These teachings are deeply relevant whether we are just seeking a happier life or are pursuing the spiritual journey all the way to enlightenment.
Beginners welcome. No background with meditation is necessary.
Tentative Schedule*
FRIDAY, MARCH 23rd : 7pm – 8:30pm
SATURDAY, MARCH 24th : 10am – 12pm & 2pm – 4pm
SUNDAY, MARCH 25th: 9:30am – 12pm
* Exact Schedule May Vary
Additional March Events in Mexico:
7 – 9pm
WELLNES BOUTIQUE
77500 CANCUN, Q ROO
THURSDAY March 22nd – Public Talk
7 – 9pm
Tulum
(TO BE CONFIRMED)
Teacher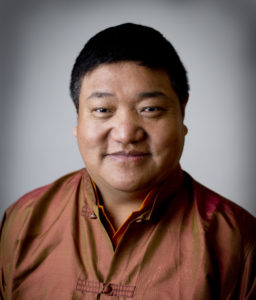 Orgyen Chowang Rinpoche
Orgyen Chowang Rinpoche is a meditation master and teacher residing in the San Francisco bay area of California. Rinpoche began his studies in Tibet with the great Jigmed Phuntsok Rinpoche, widely acknowledged as one of the greatest Dzogchen masters of the twentieth century. More…
Learn more about Orgyen Chowang Rinpoche