Online Ngondro Retreat: Essential Prerequisites to the Practice of Dzogchen
With Orgyen Chowang Rinpoche
Open Dates
Online Retreat Information:
On-demand video and audio recordings of the retreat are now available. Instructions to access them will be sent out via email after you complete registration. The recordings will be available to you for three months following your registration.
This retreat was held in two parts. Registration for this program gives you on-demand access to recordings from both parts of the Ngondro Retreat.

Part 1 and Part 2 each contain roughly 12

hours of video and audio teachings.

There are no prerequisites and everyone is welcome to attend these Ngondro teachings.
---
"I have not given Dzogchen teachings previously. Now I am ready to explore the teachings and practice of Dzogchen with prepared students. Therefore if people want to receive Dzogchen teachings, they need to practice Ngondro." – Orgyen Chowang Rinpoche
The path of the Dzogchen teachings consists of receiving direct introduction to the nature of your own mind and finding enlightenment within you. Through recognizing the nature of your own mind and remaining in the nature of mind through meditation practice, you become free from the limitations of ordinary thoughts and simultaneously reach the innate enlightenment that lies within you.
To help us authentically and experientially realize these teachings, there are many important and famous cycles of instructions associated with Dzogchen. There is the Heart Essence of the Dakini, the Heart Essence of Longchenpa, Manjushri Dzogchen and many other profound and transformative Dzogchen teachings.
In order to receive any of these profound teachings, students must first have done what are known as Ngondro practices.
Orgyen Chowang Rinpoche has been in the United States for many years and has been waiting for the right time and opportunity to share the Dzogchen teachings. So far, he has not given any Dzogchen retreats, nor has he taught extensively on Dzogchen texts. However, However, Rinpoche feels the right circumstances have come together to begin to share these teachings.
We are grateful to announce that Rinpoche plans to begin to teach based on Dzogchen texts and therefore, has decided to offer teachings on the Ngondro practices, particularly as an important foundational step and a prerequisite for those students interested in receiving Dzogchen teachings now and in the future.
"These teachings are designed to transform the human mind. If you do this practice properly, if you study and practice the Ngondro teachings and you study and practice the Dzogchen teachings, then definitely you can transform human consciousness and experience extraordinary consciousness and completely perfect enlightenment." – Orgyen Chowang Rinpoche
Note: If you have completed Part 1 previously and would like to register for Part 2, please contact us.
---
FAQs:
What are the Ngondro Practices?
Ngondro involves training the mind in preparation for receiving the Dzogchen teachings. Ngondro, commonly translated as the "foundational" or "preliminary" practices, includes six different main types of training or meditation that make up the essential prerequisites to the practice of the profound Dzogchen teachings.
The first meditation is the four contemplations that turn the mind toward the path to enlightenment. The second is taking refuge, which means connecting our mind with enlightenment. The third is the cultivation of bodhicitta: developing the highest form of a good heart. The fourth is Buddha Vajrasattva practice: purification of negative actions and attitudes of body, speech, and mind. The fifth is mandala offering: cultivating positive energy and richness of mind. Finally, there is Guru Yoga: uniting our consciousness with enlightened awareness.
These practices involve a number of methods of meditation including visualization of Buddhas and bodhisattvas, recitation of prayers and mantras and the cultivation of powerful enlightened attitudes and realizations. We use all these tools to transform the human mind and prepare our mind so that our practice may ripen as Dzogchen experiences.
 What is the Goal of Ngondro?
"Accomplishing" or having "done" Ngondro or having the requisite foundation of Ngondro practice does not necessarily require reciting hundreds of thousands of prayers or mantras. That is not the goal. The number of recitations or repetitions of these Ngondro practices is not important. Instead, having the real experiences of each of these Ngondro practices is what is more important than counting a number of repetitions. Living by these principles, transforming the mind through these Ngondro practices is the goal.
What Ngondro Practice Text will be used?
Rinpoche has translated the Ngondro practice by Jamgon Mipham Rinpoche titled The Clearly Illuminated Path to Liberation and may use this practice or the Longchen Nyingtik Ngondro as the particular Ngondro practice to base these teachings on. However, Rinpoche has explained the teachings will apply to all Dzogchen Ngondro practices, so after receiving these teachings people can choose whichever they are drawn to using as the basis for their practice.
Teacher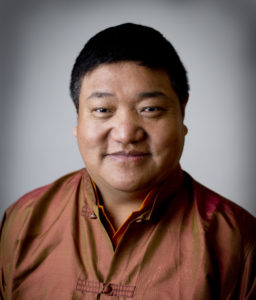 Orgyen Chowang Rinpoche
Orgyen Chowang Rinpoche is a meditation master and teacher residing in the San Francisco bay area of California. Rinpoche began his studies in Tibet with the great Jigmed Phuntsok Rinpoche, widely acknowledged as one of the greatest Dzogchen masters of the twentieth century. More…
Learn more about Orgyen Chowang Rinpoche